You will take your cocktails and meals in a magnificent 300m2 lodge, completly opened on the beach and park, and designed for relaxation. Lengthened on sofas, you will be able to read by comtempling the ocean through coconut palms, try a Malagasy board game, or to connect you -free of charge- in WIFI to internet if you are not too much requiring on the debit…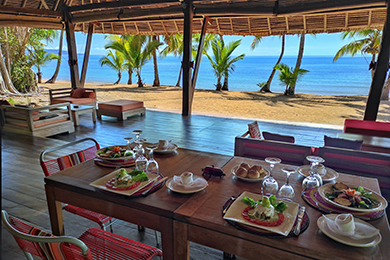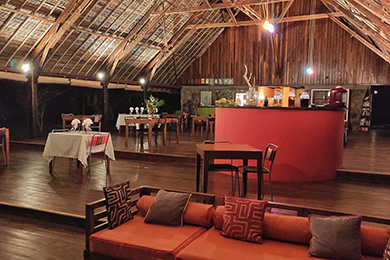 The creative cuisine is inspired by spicy flavors of Madagascar and by the French.
Composed exclusively of fresh products and premises, it leaves a wide place with the products of the sea brought daily to the lodge by the nearby fishermen, without forgetting the specialities which make the reputation of Madagascar's cuisine: the foie gras, the filet of zebu and a wide selection of exotic fruits.
As the seasons go by, our Malagasy "Chefs", integrate with talent and inventiveness, fruits of our magnificent park and our plantation, and vegetables of our organic garden.
The table of Eden Lodge is so considered to be an original and unique table.